Chin Tairy/Yu Cheng Power Co Ltd : Intelligent Machinery's Perfect Partner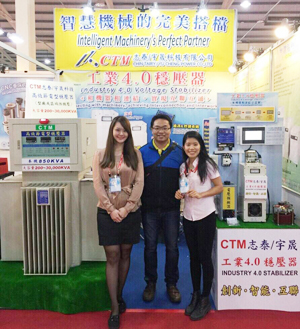 At iMTduo this year, Chin Tairy/Yu Cheng Power will be displaying a number of energy management devices and environmental-friendly auxiliaries for the manufacturing sector – on the exhibiting list are the Industry 4.0 voltage stabilizer, oil mist collector with air cleaner, and cutting fluid purifier. Manager Chu explains to the editorial on how these products assist production, and the company's upcoming innovation.
Editor: What products will be displayed at iMTduo in May?
Manager Chu: The central focus will be on our Industry 4.0 Voltage Stabilizer, Oil Mist Collector with Air Cleaner and Cutting Fluid Purifier. It resonates the theme smart manufacturing of the trade show. The highlight of this product is that it is fully digitalized and compatible to producers' machines that aim for interconnection in the factory. With wireless communication and detecting functions enabled, the stabilizer sends warning when machine over temperature or over high/ low voltage. By managing energy in a more efficient way, it allows manufacturer to move closer to realize a digitalized and smart factory. On the other hand, the oil mist collector with air cleaner is designed to improve the workplace environment, eliminate pollution and ultimately reuse the waste. This could fundamentally save the cost in cleaning while making production neater and smoother.
Editor:Is there any new innovation for your company in 2018?
Manager Chu: Yes, we will launch a new product called "Industry 4.0 Stabilizer Voltage Regulator". It is a higher-end version of the voltage stabilizer, and suitable for CNC machine users, and other specialized metalworking industry manufacturer. Using industrial-grade accessories, filtering, and surge absorption. Equip with the device interconnection function, intelligent control and terminal monitoring to link computer or mobile phone. It providing a safe, clean and smart power supply environment to effectively protect the high-end equipment operation.
This will be the perfect partner for intelligent machinery, said manager Chu. He thinks that with a high quality power supply, and interconnectivity, auxiliaries as such are the core devices to help customers in being one step closer to intelligent manufacturing.
Chin Tairy/Yu Cheng Power Co Ltd.
Tel: +886-6-2541899
Email: Ct168888@ms65.hinet.net
Website: http://www.ctm-avr.com.tw/