WEIJIN MACHINERY: Solventless Laminating Machine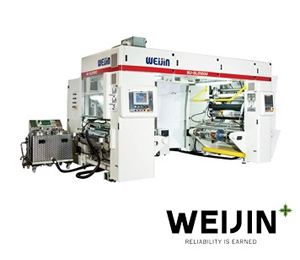 For several material such as CPP、OPP、PET、Soft PVC、PE、Paper etc.
Machine specification 800mm、1000mm、1300mm、1600mm, Other size could meet customer's need.
1. Machine Mechanism:
‧High speed running with steady status and low noise.
‧Pneumatic control impression roller:easy to operate up or down.
‧High efficient exhaust system.
‧Different size of rubber roller is easy to change.
2. Electro Control Design:
‧Main & sub transmission system are fully micro-computer PLC programmed & controlled.
‧Man/Machine interface controller with simple, easy to use operator controls.
‧Advanced drive system provides superior web tension control, requiring less maintenance and reduced waste.