Chang Woen: Squeezer DE-300/350/350+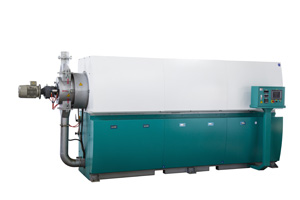 Chang Woen Machinery, a leading company in Taiwan providing solution for Plastic Recycling industry. Well reputation in mechanical solution for PET Bottle/HDPE Bottle/PE Film/PP Film Washing Line based on more than 30 years experiences. We built the first PET Post Consumer Bottle Recycling Line in Taiwan in 1993; First Fully Automatic Washing Line in Philippine for PET and HDPE Recycling; We provided more than 50 sets turn-key solution around the world, such as 20 sets of LDPE washing line in Asia and 10 sets in Europe/ Middle East.
Chang Woen Squeezer DE-300/350/350+ are specially designed for film plastic recycling. We guaranteed the moisture will less than 3~5% after Squeezer and enhance pelletizer performance in the next step. Squeezer DE-300/350/350+ take advanced screw technology, reversible to pull back the materials from the die. It's equipped with cutter for cutting function. The cutter base can open with one hand and easy to replace cutter. Squeezer has an intergraded control panel and gear interlocking. It runs with low noise (75 dB) and have a good performance on de-watering with high capacity. The squeezer conforms to European standard CE and North America standard UL.