Taipei PLAS 2018 reaches to an unprecedented scale with world renowned manufacturers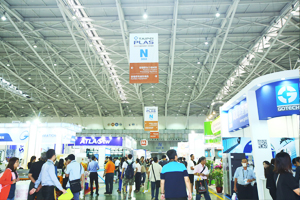 2018 Taipei International Plastics and Rubber Industry Show (Taipei PLAS) will be unveiled in Taipei Nangang Exhibition Center, Hall 1 from August 15 to 19. It is estimated to house more than 550 international and domestic renowned exhibitors occupying more than 2,700 booths. It will be an unprecedented scale with top-notch and newly developed raw materials, molds and dies, parts, accessories, processing machineries, and finished products that meet market demands and fulfill international and local buyers' purchasing needs.
World renowned exhibitors gathered in Taipei PLAS 2018 showcase latest products that represent the complete supply chain of plastics and rubber industry, including:
| | | |
| --- | --- | --- |
| Exhibit Area | Exhibits | Exhibitors |
| Plastics & Rubber Raw Materials and Products | Plastic Resin, Masterbatches & Pigments for Plastic, Polyamide, Composite Materials, Recycled/Remade materials, Engineering Plastic,、Hot-melt Adhesives, Polyurethane, Adhesives, Foaming, Parts, Silicone Rubber Products, etc. | TA HAW, KCI MASTER, THAI CHI, EVERLIGHT, NEW PARTICLE, RUBBERKINGDOM, TITAN, CHIAO FU, CHI MENG, NEW PARTICLE, HEYTAHAI, etc. |
| Plastic & Rubber Processing Machines | Plastic Extruders, Plastic Injection Molding Machines, Inflation Tubular Film Making Machines, Plastic Blowing Molding Machines, Waste Material Recycling & Pelletizing Equipment, Automatic High-Speed Sealing & Cutting Machines, Winding Machines, Plastic Laminating Machines, Rotogravure Printing Press, Plastics Bags Making Machines, Robot for Injection Molding Machine, etc. | DIING KUEN, FONG KEE, MULTIPLAS, KUNG HSING, PLASCO, VICTOR TAICHUNG, FCS, HUARONG, HEMINGSTONE, JON WAI, COSMO, TIEN KANG, YE I, LUNG MENG, CHAO WEI, KING STEEL, CHENG YIEU, CHEN HSONG, VISION, CHUAN LIH FA, VENUS, CHUM POWER, QUEEN'S, HAO YU, HWA CHIN, SHANG TA CHIA, OUTSTANDING, POLYSTAR, WORLDLY, etc. |
| Molds & Accessories, Molds Manufacturing Equipment | Plastic Injection Molds, Injection Molds, Cylinders, Ball Screw, Linear Guide, Auxiliary Machinery, Devices & Accessories, Industrial Cooling System, etc. | CNN PLASTIC SYSTEM, FU-LONG, JING DAY, GMA, PMI, ANSON HYDRAULICS, ORIENTAL, SHUTER, KEYENCE, etc. |
| Auxiliary Equipment | Quick Mold Change System, Test & Inspection Equipment, Plastic Crusher, Mixer, Dryer, Programmable Logic Controller, Printing Machinery, Extruders, Peripheral Equipment of Automatic Machinery, etc. | NANO-TREND, SHINI, FORWELL, YU TING, WAN MING, EARTH-CHAIN, MINPLY, GIN-DAI, SUN LUNG GEAR, etc. |
| Automation & Robot, 3D Printing | Industrial Robots & Accessories, Monitor-Aid and Programmable Logic Controller, Peripheral Equipment of Automatic Machinery, etc. | HI-MORE, TENSO, CENTURY, ABNER, HIWIN, YASKAWA, IGUS, etc. |
| Overseas Products Area | Polyurethane, Plastic Materials, Plastic Injection Molding Machine, Plastic Crusher, Dryer & Mixer, Cutting Machines, Plastic Bags Making Machines, Peripheral Equipment of Automatic Machinery, Air Compressor, etc. | WITTMANN BATTENFELD, ARBURG, FORCE TOP, SIMPLASTEK, BASF, JSW, GUR-IS MAKINA, ENGEL, HAITIAN HUAYUAN, WIND LEADER, DYNA, HELIO, YUKEN HYDRAULICS, B&R, KURZ, GARDNER DENVER, MAAG, KIEFEL, etc. |
For more exhibitors and their products, please visit Taipei PLAS website.
Taipei PLAS 2018 is definitely an industry event that one must visit. Come and see what's in store! Pre-register now online to receive free entry badge, free Official Directory and surprise gift. For more information, please check out our website at www.taipeiplas.com.tw.