ShoeTech Taipei 2018 showcases energy-saving, highly efficient and
automated machines and equipment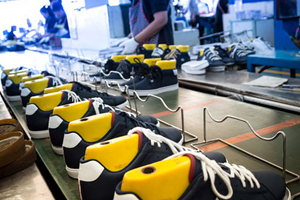 Organized by TAITRA and TAMI, 2018 Taipei International Shoe Making Technology Show (ShoeTech Taipei) will be unveiled on the 4th floor of Taipei Nangang Exhibition Center, Hall 1 from Aug. 15th to 19th, 2018. The show gathers Taiwanese indicative shoemaking machinery manufacturers to showcases their newly developed machines that are integrated with numeric control, automation and intelligent technology to help shoemakers reduce operating labor and increase production efficiency.
Shoemaking techniques and processes vary with different forms and various shoe sizes, types and materials. As such, shoemaking machines differ according to different shoe manufacturing processes. Moreover, due to labor shortage, increased wages and upswing trend of small volume and large variety production, Taiwanese shoemaking machinery manufacturers incorporate industry robots, ERP systems, IoT and 3D scanner with their machines to minimize production processes and material wastage and maximize production efficiency and flexibility.
At ShoeTech Taipei this year, visitors will be able to find the latest Taiwanese shoemaking products. For example, an automated glue spraying system, equipped with robotic arms and automatic 3D visual identification technology, offers automatic swinging and controlled adhesive spraying mechanisms, not only bringing a perfect solution to time-consuming manual gluing and assembly but also protecting workers from inhaling volatile chemicals from adhesives. There is also an rotary automatic rubber injection molding machine, incorporated with high torque feeding system and rotary design, reduces preparation time to improve efficiency and operate multiple steps at the same time with accurate operational control.
A series of shoemaking machines, testing equipment, molds and dies, materials, components and accessories will be presented during the show to provide the best production solutions that meet shoemakers' needs. ShoeTech Taipei is definitely the industry event that you must visit in 2018. Pre-register now online to receive free entry badge, free Official Directory and surprise gift. For more information, please visit our website at www.shoetech.com.tw.