Polystar: Repro-Flex plastic recycling machine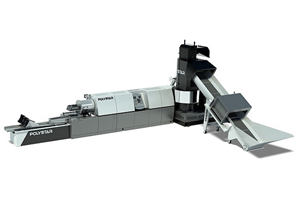 Recycling Made Simple
The Repro-Flex plastic recycling machine combines cutting, extrusion and pelletizing into one compact and efficient recycling line. The cutter compactor of the recycling machine prepares (pre-conditions) the material into an ideal condition for the extrusion process and feed the material directly into the extruder with a centrifugal force. Comparing to the conventional recycling machines, this integrated system does not require a separate crusher, and therefore, eliminates the problem of inconsistent feeding (over-feeding or insufficient feeding). With POLYSTAR's advanced design and technology, you can enjoy the high efficiency and ECO-power saving experience via the simplest operation.
Easy material feeding without the need for pre-cutting
The waste material enters the machine from the belt conveyor (for film scraps and rigid plastic regrind) and the nip roll feeder (for complete film rolls) at the same time. An extra silo tank can also be added to store and feed pre-washed film flakes. The feeding is controlled automatically based on how full the cutter compactor is. The cutter compactor then cuts, dries and compacts the material into a semi-molten condition (just below the agglomeration point), which is optimal for the extrusion process that follows. The cutter compactor then feeds the material directly and consistently into the extruder screw
Higher output capacity
The integration of the cutter compactor and extruder ensures extremely fast and stable feeding, the tangentially connected extruder is continuously filled with pre-compacted material. This results in a much higher production output comparing to other types of recycling systems on the market
Superior pellets quality
The stable material feeding together with the hot die face pelletizer produce round-shaped, uniformed size pellets that are higher in value and optimal for reproduction (extrusion processes).
Intelligent and Automation Control
The control system is integrated with internet access module which enable the instant remote monitoring and control. With precise big data storage and analysis, intelligent manufacturing and control via Cloud had been came true.