Jiuh Kang : Exclusive Screws for foamed sheet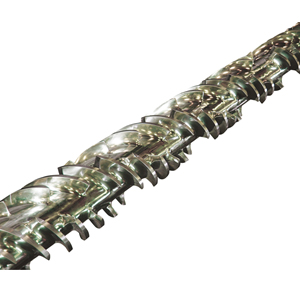 Jiuh Kang is the expert in manufacturing giant-sizes Screws. Being recognized by the high quality we stand for, we have established a long term partnership with several Japanese leading plastic machinery manufacturers and outstanding Taiwanese extrusion/ injection machinery firms in providing them our plastic machine screws and tubes. While the market demand for exclusive screws in PE and PS foamed sheet surges in recent years, Jiuh Kang insists to use Japanese alloy steel to operate UT, and then apply the quenching treatment to stabilize the material. Under this particular process, we use a 7 meter specialized CNC to achieve accurate milling. And then let the material go through high (medium)-frequency treatment or nitrogenizing treatment in order to increase the material's hardness and durability. We would also depend on clients' request to chrome plate it for increasing the flow coefficient of the workpiece, as well as making it acid/alkali-resistant.
At the final stage, MT will be operated to ensure that the material reaches our standard of consistency.
Jiuh Kang upholds the value in creating pleasure for the manufacturers; confidence for the sellers and making our products reliable for the customers.