FCS: Electric Molding System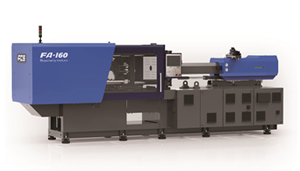 FCS will display Standard Toggle Hydraulic Molding System:FA-160 and Electric Molding System:CT-300.
FCS is going to focus on energy-saving innovation, launching new models and a new design of IMM. All these models include highly technical and innovative concepts, but also follow the developing trend of Industry 4.0, with energy-saving market demands, showing FCS's high capacity in system integration and innovative development.
For this exhibition and for the first time, FCS announces the iMF 4.0 (intelligent ManuFactory 4.0), which is a smart production management system that will be linked to FCS's newly released Standard Toggle Hydraulic IMM(FA-160) and Electric IMM(CT-300) in order to extract data and values about the molding parameters, quality control, auxiliary equipment and reuse them afterwards.